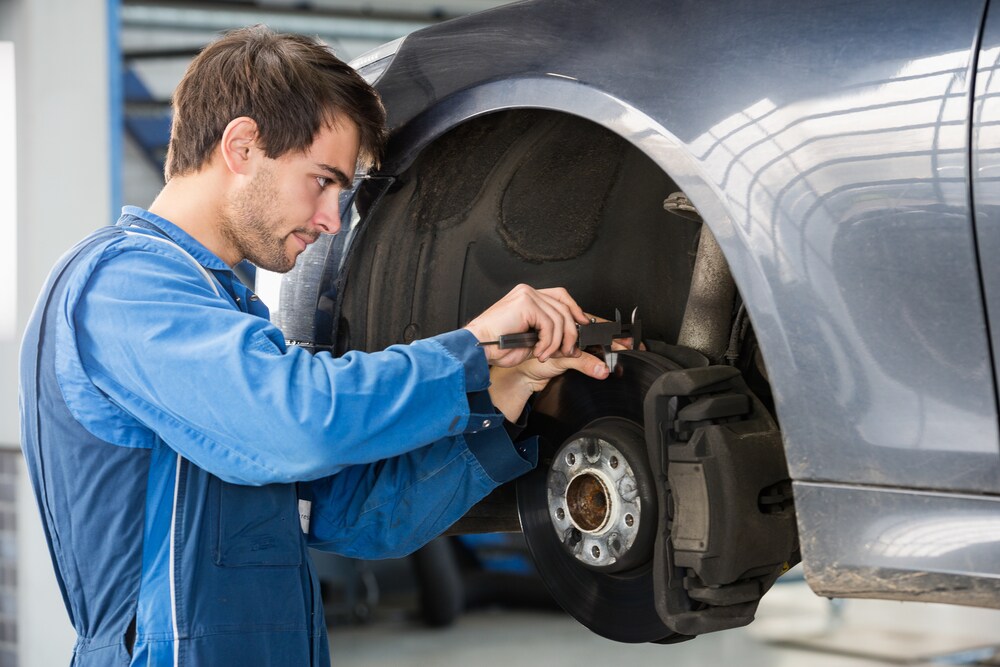 At AutoFair Nissan of Stratham, NH we know your braking system is an integral component of your vehicle's operation. Your brakes are definitely some of the hardest working parts on your car. Our service department is staffed with Nissan certified technicians who can handle any preventative maintenance or repair job your Nissan requires. 
We're just as serious about your brakes as you are because our Nissan Certified technicians know like you do they may save your life someday. That's why you can trust us with your brakes.
Schedule a Service Here
If your brake pedal has a strange spongy feel as you depress it, if you notice your brake pedal has been traveling noticeably farther to the floor when you step on it, you'll want to schedule a brake inspection with our service department at AutoFair Nissan of Stratham, NH as soon as you can. When you start to hear a squealing sound as you brake or your whole front end shakes whenever you apply the brakes you've waited too long and desperately need brake repair. 
Locked calipers are nothing to fool with they are parts that can be dangerous it's a good idea to let our trained and certified brake technicians handle your brakes all together. Your brake rotors are some of the more expensive brake parts to replace when you hear that squeal it means your brake pads are worn away to the metal brake shoe and the rotor is now metal to metal and one or both rotors may be locked! That's not a good place to be at all, but our trained and Nissan certified brake technicians can get you back on the road in no time. 
We'll make sure you get a fair estimate before we begin and we'll always try to get you the guaranteed lowest price possible. Once one or both brake calipers lock that's going to affect your mileage significantly. We can help you avoid unsafe and inefficient driving conditions all together. Your safety and the safety of others on the road is always a important us.
 Early signs that you might be braking a little too hard is the presence of brake dust  on your wheel rims. That's most likely caused by undue wear on your tires. If your  tires don't have proper traction it can make you brake harder more often so while  you're in getting your brakes inspected we'll look at the general condition of your  tires too. 
 If you have under inflated tires they can cost you more money than you realize  affecting your vehicle's overall fuel efficiency. Our service department at AutoFair  Nissan of Stratham, NH are fast, friendly and thorough so we know what to look for  and fix. We'll get you in and out as quickly as possible. Your safety and satisfaction  are what matter most to us. That's why your service is our service at AutoFair  Nissan of Stratham, NH.