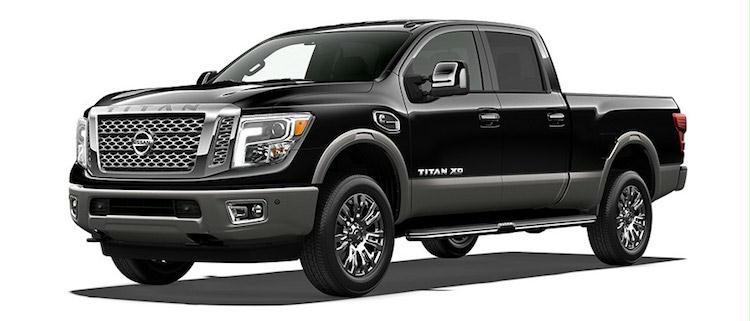 Completely redesigned for this model year, the
2017 Nissan Titan
brings a little bit of everything to the table for truck buyers. Available in two options (Crew Cab and XD) the Titan has rolled out in some dealerships currently and will see a full release around mid-fall.
Luckily AutoFair Nissan of Stratham has gotten a significant amount of '17 Titans in stock now! Want to see what we currently have? Click the link below to see our current inventory of Titans. Not sure if the Titan is right for you? Continue reading to see what the all-new 2017 Nissan Titan has to offer.
View 2017 Nissan Titan Inventory
More power, new 7-speed transmission and top-tier braking, the Titan is back and it's the best it has ever been. Not only did it get a nice little performance upgrade, the Nissan engineers added a new bold look and interior to accompany the power increase- all around its bigger, better and more luxurious.
Now available in a monstrous 390-HP 5.6 L Endurance V8 engine that allows up to 9,730 lbs of maximum towing capacity- allowing you to tow just about anything your heart desires. That's not the only performance upgrade the Titan received this year, an all-new reinforced fully boxed full length ladder frame makes for one of the most sturdy truck models on the market today. No job is too tough for the 2017 Nissan Titan.
The inside of the new Titan ain't too shabby either. Taking a huge step forward in cabin comfort and quietness, Nissan added premium features top to bottom to help the Titan buck the common trend of an uncomfortable, loud pickup truck. The new front and rear climate controlled zero gravity seats, heated steering wheel and remote engine start system (especially useful for the frigid NH winters) all make the Titan a comfortable, pleasant experience to drive, or ride in.
If you feel more comfortable off pavement than you do on, the Titan PRO-4X might be the perfect choice for you. You'll have all the bells and whistles necessary to tackle any off-road adventure you can think of. From the 18" all-terrain tires , and electronic locking rear differential, to the Bilstein off-road performance shocks and advanced technical features offered no-where else, this is one of the best off-road options on the market.
The Advanced Drive-Assist Display on the Titan PRO4x has a dedicated off-road display as well as a tire pressure monitoring system to keep you up to date and in the know of your off road performance. The Around View Monitor will also help you on all of your rock crawling adventures and avoid tricky obstacles that you would otherwise miss.
Worried about wrecking the under-carriage or your new beast? No need to. The PRO4X model comes standard with oil pan and fuel tank skid plates and also adds a transfer case and lower radiator skid plates to keep the under-belly protected at all times, no matter the terrain.
What sets the Titan XD apart from the competition is its unique diesel-powered Cummins Turbo V8 engine. Built in Indiana, this 5.0 liter powertrain gets you a whopping 310 horses and 555 pounds per foot of torque. It also features sequential turbocharging, which can give the Titan the extra kick needed for towing power and eliminating any lag while cruising.
The Titan XD also features a six-speed automatic transmission that sends power to the rear wheels or all four to help you combat the harsh New Hampshire weather. This unique engine gives the Titan XD big power, without sacrificing fuel economy.
Providing 15.8 city, 20.8 highway, and 17.7 combined miles per gallon the Titan XD will let you spend less time at the pump and more time enjoying the ride.
This unique engine is not for the faint-of-heart, if you like to stand out and turn heads, the 2017 Nissan Titan XD is the truck for you.

So, you think you can handle the 2017 Nissan Titan and can't wait to get behind the wheel? AutoFair Nissan in Stratham, NH will be your new favorite place! Our staff understands that you're not just looking for a great truck, but you're looking for a great price as well. We'll work with you to ensure you feel comfortable doing business with us.
Ready to find a new Titan in NH? Click the button below to view our inventory online and then contact us online or give us a call at (603) 686-7436 to schedule a test drive.
View 2017 Nissan Titan Inventory