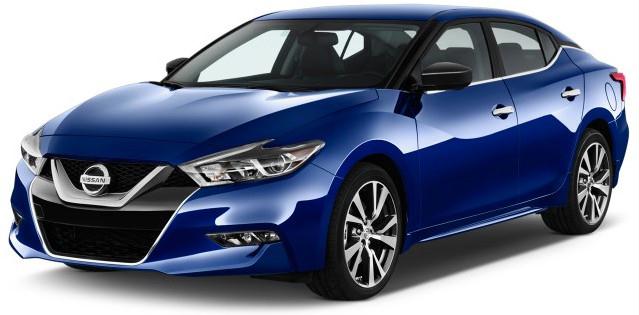 In a sea of boring and dull sedans, the
2017 Nissan Maxima
stands out from the crowd. It has many elements that reinforce the original concept of a 4-door sports car, and for 2017 Nissan set those elements ablaze with the entirely progressive and futuristic redesign.
The Maxima was built to bridge the gap between overly expensive European sports cars and inexpensive family sedans, but thanks to its power-plant, upscale interior, sport-tuned suspension, the Maxima has successfully bridged that gap.
While searching for new cars in NH, you'll come across plenty of sedans. But only the new Maxima has the best mix of style, performance, and luxury that you're looking for in a full-size sedan. By clicking the button below, you can view AutoFair Nissan of Stratham's Maxima inventory online.
View 2017 Nissan Maxima Inventory
You can tell designers of the all-new Maxima had their way with this entirely new and ground-up redesign. From the aggressive front end which incorporates optional LED daytime headlights, to the floating roof design built to mimic a Fighter jet canopy, Nissan deliberately styled this 4-Door Sports car to be a design that stands out amongst a sea of mundane cars.
Its angular front jaw and knife-edged side styling make this one of the most aggressive designs on the street today. If unique style and design is what you're after, then you can certainly check that off your list with the Maxima.
Whether you've got a long or short commute here in New Hampshire, the 2017 Maxima will ensure you get plenty of looks to and from work each and every day.
View 2017 Nissan Maxima Inventory
Revamped Interior
The exterior's Fighter Jet design is carried over into the interior. The Maxima surrounds you in its functional yet luxurious cockpit. The Zero Gravity front sport seats, designed in part with NASA, help to support and keep you in place. For those chilly mornings in New Hampshire, the Maxima's heated front seats will be sure to keep you toasty.
Summer got you too hot? Not to worry, the available ventilated seats will certainly cool you off. The GT-R inspired center stack delivers all necessary information clearly and concisely. This driver-focused layout shifts every display, knob, dial, and button toward the driver for immediate, intuitive information and command.
You are the main focus on the inside and the all-new Maxima's completely redesigned interior is proof of that.
View 2017 Nissan Maxima Inventory
Want a sports car but have a family to think about? No worries, the Maxima has you covered there as well. Unlike a Fighter Jet, the Maxima can seat more than just two people--five to be exact.
After all this is the original four-door sports car, so ample interior room is to be expected. That means when conditions are perfect, that stoplight is about to turn green and the itch in your right is begging to be scratched by the gas pedal, then the four other people with you can feel those same goose bumps caused by the 300-horsepower V6 tucked away under the hood.
There's nothing wrong with buying an SUV for the family, but the 2017 Nissan Maxima is for New Hampshire families who don't want to make sacrifices.
View 2017 Nissan Maxima Inventory
Choose AutoFair Nissan NH for Your New Maxima

So, you want to add driving pleasure to your normally mundane commute? Want to bring the family along and let them see what the new Maxima has to offer? Bring them to AutoFair Nissan in Stratham and test drive a brand new 2017 Maxima in NH.
Want to learn even more about the 2017 Maxima? Click the "Start Chat" button on the right side of this page or give us a call at (603) 686-7436.
Ready to see AutoFair's selection of new Maxima models? No matter what your budget is, we've got a huge selection to meet your wants and needs. Click the button below to view our inventory now!
View 2017 Nissan Maxima Inventory