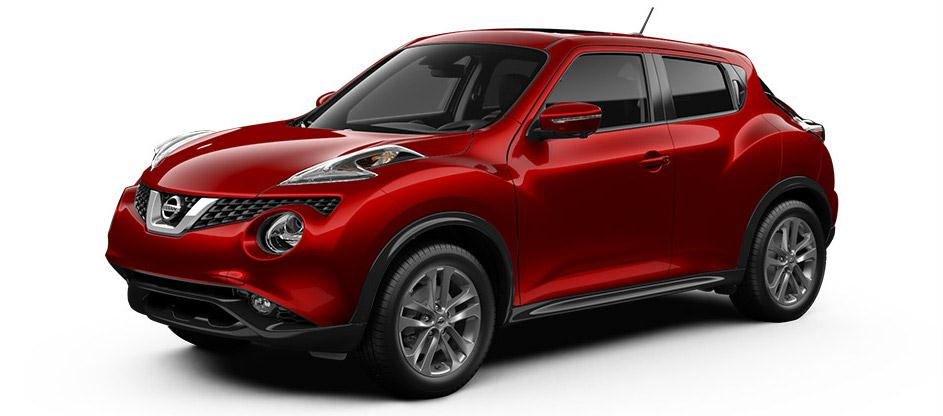 The Juke certainly puts the "fun" in "funky". It's agile nature makes it perfect for those who want a spry and speedy little vehicle that also stands out in traffic. The Juke has always been an outsider, being a small crossover, with its priorities in very different areas than pretty much every other model in the industry.
Quirky. Offbeat. Funky. It seems wherever the
2017 Nissan Juke
goes, those three adjectives seem to follow and follow closely. Not your everyday or average subcompact. It's for those who think outside the corners of your typical box-shaped SUV.
Are you unique enough for the Juke? Click below to view AutoFair Nissan of Stratham's incredible inventory of this amazing crossover SUV!
View 2017 Nissan Juke Inventory
The Most Powerful Subcompact Crossover SUV
The JUKE isn't just a crossover, it's a sport cross Sport Cross. 370Z-inspired combination lights and taillights, an angular hood, and those aggressive muscular lines. But don't let its good looks deceive you; the power is there to back you up. Under that chiseled hood lies a 188 horsepower 1.6-liter Direct Injected Turbocharged 4 cylinder engine.
So that means you get boosted turbo performance when you want to feel the kick, or ease off for normal gas sipping cruising. With a core engineered for agility and power, this is a crossover built for turning heads. And with 35.9* cubic feet of cargo space, you can lug your dog, your buddies, or your gear wherever you're going.
View 2017 Nissan Juke Inventory
Advanced AWD for Safe Winter Driving
The JUKE's available torque vectoring all-wheel drive is an innovative stabilization system designed to help keep you in control when the roads get sketchy here in New Hampshire.
In addition to moving power between the front and rear wheels, the system automatically transfers rear-wheel power to the left or right, depending on which one needs it more. So a change in the weather won't change your confidence and capability in your JUKE.
View 2017 Nissan Juke Inventory
Have More Fun with the Juke Nismo
NISMO is synonymous with performance, which means the JUKE NISMO is the ultimate performance crossover. More horsepower, sharper handling, better brakes, a performance transmission, and overall a lower, leaner, meaner attitude.
From its Recaro Seats and Alcantara Leather-wrapped steering wheel with paddle shifters, to the Summer Sport Performance tires wrapped around a set of low-profile 10-spoke smoked aluminum-alloy rims. This thing means business!
Taking design cues from the ultimate supercar, the Nissan GT- R, Nissan tweaked the front and rear fascia, added a rear diffuser, tweaked the rear spoiler, and lowered the side sills on the JUKE NISMO giving it more downforce and improved aerodynamic profile.
Need we mention that the NISMO JUKE RS's turbocharged 4-cylinder gets pumped up to 215 horsepower and 210 lb-ft Torque? The term 'So Much Punch for Such a Small package' couldn't be any truer than it is here in the JUKE NISMO.
View 2017 Nissan Juke Inventory
See the Juke at NH Nissan Dealer, AutoFair Nissan of Stratham

Ready for this level of fun, style, and personalization in your crossover SUV? AutoFair Nissan in Stratham, NH is waiting to help you get behind the wheel of a 2017 Juke! Whether you want to schedule a test drive or just understand what our pricing, give us a call anytime at (603) 686-7436.
If you'd like to browse our inventory of new Juke models, you can click the button below to see what we've got in stock. Or if you want to see the Juke in person, visit us at 45 Portsmouth Ave. Stratham, NH. We're always ready for your business!
View 2017 Nissan Juke Inventory